Imagine a world where…
---
Professionals are energized by their work and engaged in purposeful careers.
Leaders have the emotional intelligence to engage their teams in a way where they are seen, heard, and empowered to show up as their authentic selves.
Organizations harness the strengths and diversity within their cultures to ignite innovative ideas, products, and services…thereby delivering extraordinary business outcomes.
I've been partnering with professionals, leaders, teams, and organizations across Fortune 100 companies to achieve these goals for over 20 years.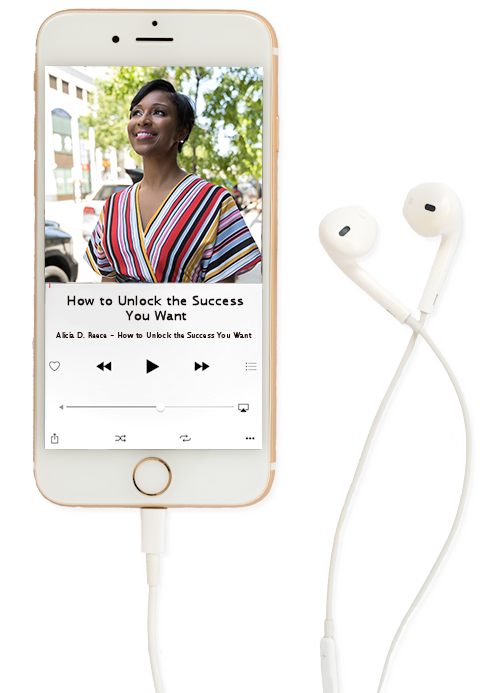 Learn How to Create the Success You Want
90% of people who are "winning" in life and business have high emotional intelligence. These people are not just achieving powerful results; they have developed the emotional and social capabilities to effectively manage relationships, stress, and changes in their careers and lives.
Learn how to create the success you want by downloading my free training resource.
THEIR OWN WORDS…
Client Feedback
My coaching journey with Alicia has led me to find new and valuable insights about myself, making business and life decisions that feel right for me. Alicia helped me find the clarity I was looking for. After each session I came away with clearer thinking, better plans and a deeper understanding of how to deal with an opportunity or a situation. Alicia has a great way of making a person feel at ease and heard. She brings with her vast knowledge of the corporate world which benefits corporate and small business clients. I would highly recommend Alicia to anyone who is looking to invest in themselves through coaching.
Priska Kianza
Director Regional Sales at Ciena UK
Alicia was assigned to me as a Leadership coach. Alicia helped mold me into the leader that I am today and I owe her a debt that I can never repay. Alicia made sure that I was getting what I needed out of our sessions. I specifically wanted help with being more assertive and to be able to give hard feedback. To that end, she provided tremendous coaching that made a huge difference in my life both professionally and personally. I recommend Alicia wholeheartedly as a leadership coach. She has made a huge difference in my life and I have no doubts that she can do the same for you.
Osama Dorias
Leader, Game Design at Warner Brothers Games Montreal Inc.
A well-respected thought leader with strong strategic program management capabilities, Alicia has helped her clients translate business strategy to innovative HR solutions. With an incredibly diverse background in the HR arena, Alicia has held multiple roles and has always had a strong focus on growth and impact. You can count on her to bring the power of experience, leadership and creativity to any challenge, while also having a very authentic and motivating approach. She is a role model that others regularly seek out for guidance, collaborative thinking and coaching.
Francine Katsoudas
Executive Vice President, Chief People Officer at Cisco
I was offered a chance to meet with Alicia for some executive coaching and it was a very impactful conversation. I think we were supposed to follow a bit of a flow of Q&A with dialog, but she quickly adapted to my off-the-track questions and lead me down a path that helped identify a fundamental impediment I am dealing with in regards to my personal and leadership development that has been slowing down my growth. I have been studying and working on this for a while now and making good progress. The highlight for me was that in just a matter of one session a problem I have been wrestling with for years and through multiple mentors was made clear and a path towards developing through it was identified! Alicia is great!
Jim Jones
Senior Manager, Global Collaboration Business Development at Cisco
I had the opportunity to partner with Alicia to put on an Inclusion Week at my company. She helped us create a well-balanced agenda for the week and helped to secure several pivotal outside resources. Her communication skills, especially around introducing inclusion and diversity themes and topics, are unparalleled. She strikes a wonderful balance of capturing hearts and minds.
Lindsay Barnett
Senior Director, Talent Development & Inclusion at Kite Pharma
Alicia is warm, analytical, and objective. After ascertaining immediate action items and goal setting, she laid out an impressive no-frills approach. She underscores the importance of EQ in conversations and was able to bring a new perspective to several areas that are on my career and personal radars. I strongly recommend Alicia for leadership coaching, corporate speaking, and executive camps.
Kireet Kokala
Director, Analytics Practice at Trianz
Discerning and personable, Alicia has exceptional communication skills and is able to establish a rapport that truly encourages self-reflection while capably providing guidance in a large, technical corporate environment. Efficient and goal oriented, Alicia is able to break down problems, and help navigate customized solutions to aid any client in achieving the next level of success in their career path. It is a pleasure to work with such a great role model who is confident, trustworthy and enjoys watching others shine.
Debbie Lewis
Technical Leader at Cisco
Working with Alicia was a pleasure! Her calm demeanor and ability to actively listen made me comfortable early on, and made the coaching process very easy. Her advice was insightful and on point. She helped guide me in the right direction but also allowed me the space to come to my own conclusions and own the process. With her help, I made a lot of progress in my development and she helped me craft a plan for future development goals.
Francis Badzey
Executive Director, Global Media at Warner Brothers
It was my great pleasure to have Alicia as my career coach recently and I will let the results speak for themselves. At the start of our relationship, she asked me how she could help and I told her I wanted a new position, more responsibility and a salary increase. After only six months of working with her I obtained a new position, more responsibility and a salary increase! Through her focus on emotional intelligence, I was able to gain perspective on my natural leadership abilities, pay more attention to opportunities for improvement and ultimately achieve a significant milestone in my chosen field. I miss working with Alicia, but the relatively brief time I spent with her will have an exceedingly positive impact on my career trajectory for years to come.
Michael Watt
Production Executive at AMC Networks
Having Alicia as a coach has been a fantastic experience. She helped me focus on my strengths which helped me gain confidence during a significant transition in my career. She also helped me remain focused on positivity, create boundaries and remaining above the fray during times of significant negativity in the workplace. Alicia is a great listener and would suggest meaningful activities to build off of our discussions in our sessions. As professionals, it is easy to get busy and forget to take time for personal improvement. No matter how busy I was I always looked forward to our sessions, and Alicia never failed to provide valuable insight I could apply immediately.
Keith Moran
Sales Executive at Workday
Alicia is a terrific coach, who sincerely cares about the personal growth, wellbeing, and career development of her clients. She is very knowledgeable and always listens, foremost, to help identify challenges and then provides great insight, including personal examples, of how to implement changes. She has provided me with so many tools to continue on the path to greater success professionally and holds me accountable to the goals I set.
Deniece Carrington
Attorney & Magistrate Judge in Atlanta
Alicia has been a tremendous asset to us as a trusted consultant dealing with the most important part of our business- the people. Alicia has helped us with an insightful and practical approach for career coaching and onboarding for our new college graduates and interns. Alicia has been able to develop a product that meets our needs by helping us effectively diagnose our challenges with the current process and communication. She made great recommendations and is working with the team to implement the recommended actions. Alicia is creative and passionate about her work and any organization would be lucky to have her consult on a project or provide coaching.
Hope Weatherford
Director, Talent Attraction at InVision
Alicia was very well received as a presenter in the Emory Alumni Association Career Webinar Program, when she spoke on the power of emotional intelligence. She was incredibly professional and thoughtfully considered the needs of our audience and the vast array of content that she could put together in a webinar. Alicia has a great balance in her presentation style, as she is poised but also able to achieve familiarity over the online platform. She combined anecdotes from her corporate experience with models and methods from her coaching practice, and it made for a winning combination.
Sarah Rawls
Senior Director, Regional Networks at Emory University
Alicia is a thoughtful and engaging executive coach. She helped me see beyond the everyday issues I was encountering as a leader and helped me to focus and leverage my strengths in managing what was in my control. Alicia asks probing and relevant questions to get to the heart of the matter. She never judges, pushes, or directs. She simply asks you to ask yourself what you can do. She provides real life guidance for complex situations encountered in the modern workplace. Alicia taught me how I could better relate to my team, my peers, and my manager without losing my sense of self. She showed me how to navigate difficult situations on my own successfully. I would not be the leader I am today without her as a coach.
Aisha Khawaja
VP, Card & Payment Services, Delta Community Credit Union
After having a few career hiccups, I was recommended to Alicia via a mutual friend. I engaged with Alicia, and over the last few months, really saw a dramatic difference in my career trajectory (I found a new job that I love while working with her!), and gained many insights into my emotional intelligence, which has helped me both personally and professionally. I took pages of notes, and Alicia provided many reference materials for me to research on my own, all of which have been extremely helpful even outside of our sessions. Best result: after working with Alicia for a few months, she "fired" me from our remaining sessions, as I had achieved everything I had set out to accomplish with her in such a short time of working with her! Alicia's help has been invaluable to me; I know I will continue to use these tools moving forward.
Amy McGurk
Editorial & Content Leader, WebMD
As part of a KPMG Leadership Academy, I was lucky enough to work with Alicia as an Executive Coach for a span of 5 months. My favourite part of our sessions was Alicia's ability to provide actionable advice with each challenge. On top of understanding leadership stories, lessons and great advice, I always left each session with a clear understanding of my next steps on my own development plan. I highly recommend Alicia!
Grant Van Rensburg
Senior Manager, Supply Chain Advisory at KPMG Canada
I had the pleasure of working with Alicia through a series of leadership coaching sessions. She is a great listener, open and empathetic. Not only did she provide some great practical pointers to help me navigate my leadership journey, I was also very much inspired by her leadership story. Thank you Alicia for a wonderful experience – you gave me lots to think about, and I really appreciate your additions to my to-watch and to-read lists!
Michele Chu
Senior Accountant, Office of the Partner, KPMG Canada
I had the pleasure of hearing Alicia speak at the Forbes Under 30 Summit in Detroit this October. Alicia has the unique ability to connect authentically with professionals. While sharing some of the most nuanced topics around diversity, equity, and inclusion, she was dynamic, accessible, and offered actionable solutions for each audience member. She's a captivating speaker and a true connector — I watched her stay long after her talk to have genuine conversations with each attendee who wanted to reach her. She genuinely wants to help as many people as she can. I would recommend Alicia highly — she adds tremendous value with her expertise, social prowess, and authenticity.
Sade Muhammad
Associate Director, Content Partnerships at Forbes
My clients span across multiple industries…