A Note from Alicia
I spent most of my professional life working in HR leadership roles for Fortune 500 companies. One particular experience stands out. I had my dream job. On the surface it had all the appearances of success — a six figure salary, exposure and responsibilities that contributed to the success of large teams. But personally, all of that came at a high cost. The responsibility translated into 13-hour work days. I felt the life sucking out of me. Less than a year into the role, and in the midst of a lot of uncertainty, I quit.
I took a stand to move forward in creating the career and life I wanted on my own terms no matter what.
Less than three months after quitting the role, I relocated to the city of my choice, got a new job that I truly loved. I finally had the quality of life that I had always envisioned. I am sharing my story with you because that leap of faith changed my career trajectory and life. I was able to harness my emotional intelligence by eliminating negative self- talk, limiting beliefs, and focused on creating the career and life that I wanted.
I am committed to helping my clients do the same…move forward no matter what to have a career and life that they truly love.
Whether you're feeling stuck in your career or looking to make a big change in your life or leadership journey, I'm here to help you reach your highest potential and achieve your goals.
Click Get Started below to schedule time with me, stay connected and receive a free audio training called "How to Unlock the Success You Want". The training is less than 15 minutes.
Thanks for being here. I look forward to connecting with you soon.
Alicia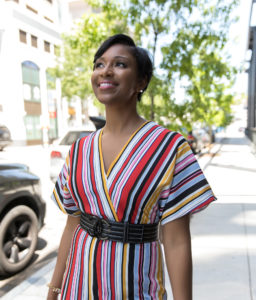 Alicia Reece is a certified Executive Coach and Senior Consultant. Alicia brings 20 years of global diverse experience working with Fortune 500 and enterprise clients such as KPMG, Cisco, LinkedIn, Gilead Sciences, Kite Pharmaceutical, Lyft, FedEx, Salesforce, and Warner Brothers. Currently, Alicia is the Principal and owner of The Reece Group, a coaching and consulting business helping organizations, groups, and leaders advance their goals in the areas of organizational effectiveness and leadership development. 
Alicia spent most of her career in HR leadership roles. Most notably, Alicia spent nearly a decade with Cisco working at the intersection of HR and business. With a reputation as a strategic business partner, Alicia's skills as a consultant and collaborator shaped her success as she led initiatives in diversity and inclusion, acquisition integration, change management, leadership development, and engagement strategies. 
A few outcomes of her consulting work include: collaborating with senior executives on inclusion and diversity strategies with an emphasis on the attraction, retention, and advancement of underrepresented populations, mobilizing employee networks to drive business value in Human Resources, Sales & Marketing and Government Affairs, devising a global high-potential leadership pipeline network, and partnering with leaders to drive their strategic planning and visioning process.
Alicia holds a master's degree in Strategic Leadership from the University of Memphis and a bachelor's degree in Business Administration with a concentration in Human Resources Management from the University of Tennessee at Chattanooga. She is a graduate of Coach U and has a host of certifications which include: Emotional Intelligence, Hogan Assessment, Standout (Strengths), DISC, Six Sigma (Green Belt), & Lean. Alicia has served on the board of the Technology Association of Georgia's Workplace Learning Society. On the personal side, Alicia enjoys traveling with her husband and daughter, wellness activities, and engaging in philanthropic initiatives.